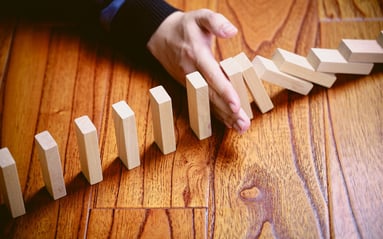 If the first thing that comes into your head when you hear the word 'risk' is a feeling of fear, then we have something in common, you and I. Risk comes in all shapes and sizes in business, and whilst it's presence isn't always obvious, if it isn't identified and addressed quickly then the impact on your business can be catastrophic.
Risk can be present inherently within your organisation; I'm talking about operational risk such as gaps or limitations in your workforce, your technology or your product. It can be strategic, and by that I mean risk associated with putting business and strategic planning in place to ensure you stand up to your vision and mission aims. You can also face external risks, for example financial risk, which can be related to issues surrounding access to credit, cash flow worries, pricing pressure, and market spend downturns. There are compliance risks, such as political and/or regulatory factors imposed by the government that can impact your ability to operate within your industry, or at best make it costlier. And finally, perhaps the greatest risk of all, reputational risk which can have long lasting impacts on business health and value.
Very importantly - whatever the outcome, you and your fellow Directors are all jointly responsible and accountable under UK law if anything goes wrong, regardless of your individual internal responsibilities within the business.
So we know the risks, but what can we do about them?
Know the risks relevant to you and your business – every business is unique and will face a variety of challenges. Take time to do the research and to make sure you understand different risk factors and their relevance to your business
Work to understand these risks – this will enable you to turn them into opportunities that can be seized and exploited to make your business stronger. Understanding your appetite for risk will make this task easier for you and your colleagues, so get aligned on that at the outset. Meet these challenges early, proactive risk management can save much agony in the long term.
Trust the right people to do the right job – a strong team is far greater than the sum of its individual parts, and a single individual cannot do everything. Take the time to recruit staff wisely, based on both the skill set your business needs and the company culture. Embrace the opportunity to lead your team by example, improve business engagement and support them as necessary.
Strategy Strategy Strategy – every business should work to a robust strategy that is reviewed and tested regularly; hold yourselves accountable and use it as a tool to retain control and direction over your business – it's your best shot at achieving your goals
Understand where the money goes – not everyone is an expert in finance, but a basic understanding is essential for all employees operating at Director level.
With these tips in mind, you can appreciate the reality of business risk in all of its forms, and prepare your employees to manage and combat business risk effectively, and as part of a team and as part of of your overall governance, risk and compliance strategy.