Information security is no longer an IT issue and is fast becoming a critical business issue. Recent high-profile hacking cases have shown that security vulnerabilities are not restricted to organisations of a particular size or a specific industry.


Vulnerability Assessment & Penetration Testing
Many IT systems are deployed with known and unknown security holes and bugs, and insecure default settings (such as blank passwords). New vulnerabilities may also occur as a result of mis-configurations and settings.
Vulnerability assessment is the process of identifying such vulnerabilities in information systems. Penetration test, on the other hand, is the process of evaluating information security by simulating a malicious attack using vulnerabilities in information systems.


How can Turnkey help?
Turnkey's Vulnerability Assessment and Penetration Testing (VAPT) suite includes vulnerability assessment, penetration testing, application testing and host review services.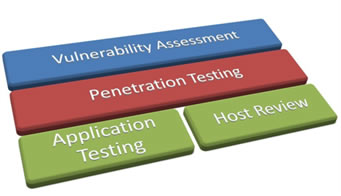 Our VAPT suite includes use of both open source as well as commercial tools to analyse both network traffic and information systems to identify any exposures that increase vulnerability to attacks. We simulate an attack and test the network and systems' resistance as part of Penetration Testing.
Vulnerability Assessment deals with potential risks, whereas Penetration Testing is actual proof of concept.
Application Testing evaluates controls in web applications to prevent compromise of security of the application or the underlying system through flaws in the design, development, deployment, or configuration.
Host Review is a white box (or full disclosure) test to evaluate the system security configuration settings.
Together, these services test various layers of security controls and provide a holistic perspective.


Benefits
Turnkey's VAPT suite assists in identifying vulnerabilities and risks in your network and IT infrastructure. Some of the benefits of our VAPT suite is as follows:
Validates the effectiveness of current security safeguards
Quantifies the risk to internal systems and confidential information
Raises executive awareness of organisation's exposure to information security threats
Provides detailed remediation steps to prevent network and IT infrastructure compromise
Protects the integrity of information assets exposed on Internet
Helps to achieve and maintain compliance with various regulatory requirements