BEDROCK
The GRC managed service from Turnkey

The foundations for effective ERP security and control

With Bedrock – Turnkey's managed service for governance, risk and compliance (GRC) – you'll benefit from a strong platform that enables you to close your capability gap quickly, without a large upfront investment.

The key benefits of Bedrock are outlined below: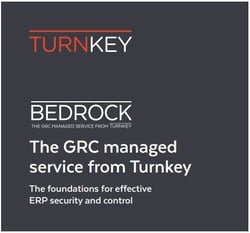 ACCESS AND DEPLOY SAP GRC SECURELY FROM THE CLOUD
REDUCE OVERHEADS WITH A PREDICTABLE COST MODEL
RELIEVE THE BURDEN OF TECHNICAL SUPPORT AND ADMIN
ENSURE YOUR BUSINESS IS SUPPORTED BY RISK EXPERTS
LEVERAGE GRC BEST-PRACTICE AND SAP SECURITY EXPERTISE
ON-DEMAND ACCESS TO SAP GRC PRODUCTS AND SKILLS
View Bedrock's datasheet by filling out the form on the right and learn more.
Please enter your details below
How we will use your personal information
We will always keep your information safe. We ask for the information contained in this form in exchange for a valuable resources. By sharing your information it will also ensure we are able to send you educational information in future that we think will be of real value to you.

We will never send you information about our products and services by email, unless it has been specifically requested.
* We respect your privacy and personal data. By submitting your details and downloading our document you are accepting Turnkey Consulting's privacy policy which can be found here.