Dealing with uninvited guests is not something that many of us think about when it comes to video conferencing. However, with the rapid shift to remote working, it's a worrying trend that is being exploited by opportunists every day - but so far, the main focus has been on one application.
Zoom appeared much later on the video hangout scene than platforms such as Skype, Webex and GoToMeeting, yet it has quickly become the more popular choice because of its simplicity and the frictionless experience it provides.
Yet it's increased use, more recently for more public hangouts such as an open to anyone 'Virtual Pub', has led to it being misused and exploited. At one end of the spectrum you might be exposed to mildly offensive material, right the way through to a catastrophic cyber attack at the other.
'Zoom-bombings' and invasions of privacy are now very real. Bombers have taken control of screen sharing to publish pornogrpahy and voilent video or imagery, while criminals have leveraged the file transfer feature to spread malware. Every day now it seems, more news emerges about the potential risks in using the platform.
The real worry is for professionals who are using Zoom to hold confidential conversations - such as lawyers, auditors or accountants - as potential criminals could be listening in. For these and other such sensitive use cases, Zoom has been banned from certain high security-driven organisations such as governments, law courts and Google.
So, should you ban Zoom too? No, not necessarily. In the above instances, Zoom wasn't banned because it was insecure or had poor privacy practices, rather it was because these organisations have highly specific security needs that demand more rigorous enforcement.
So, if your organisation continues to use Zoom, the following security checklist should help.
Your video conferencing security checklist
Within your Zoom account settings you are offered a wide range of options to customise your privacy experience - so it's important to understand how to set-up the tool to minimise your risk. It's likely that Zoom won't be the only video conferencing platform to be targeted, so if you use another tool, these precautions are equally as valid. Our checklist below provides 5 of the key measures you can take to hold more secure video calls.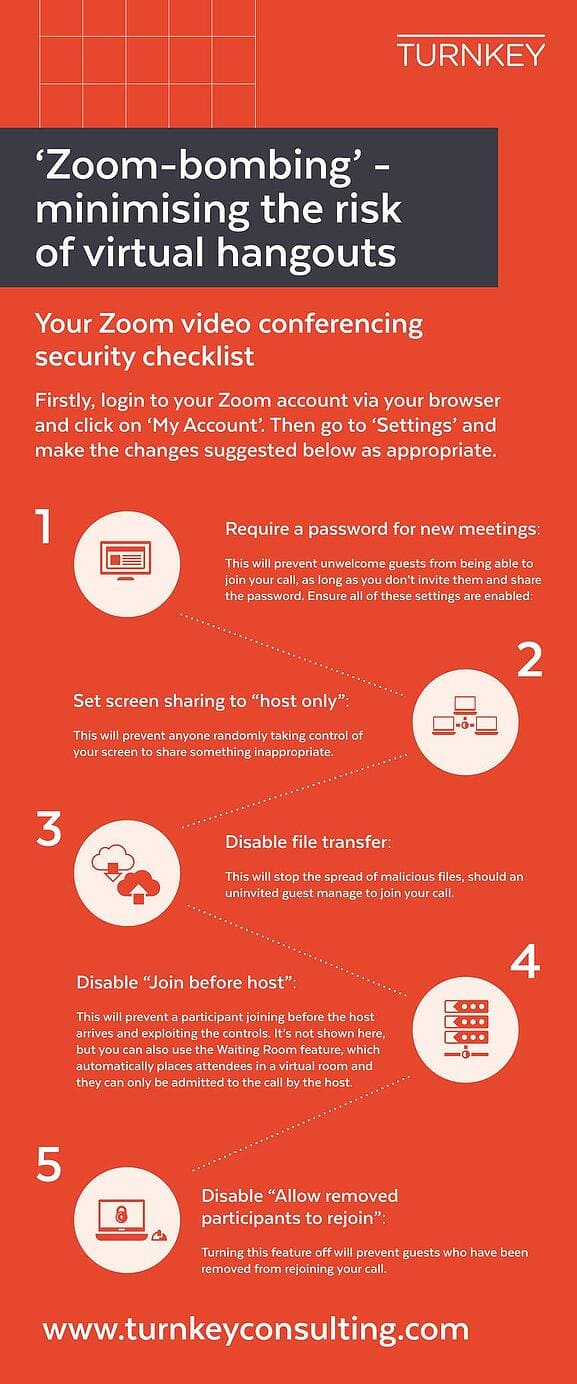 If you want to go further, Zoom provides a whole host of other measures you can take within its comprehensive suite of settings. Click on any of these links for details from the Zoom support pages.