Risk and controls in real life
Join us for our latest guest webinar. Norman Marks will share his view of risk and controls as they actually happen in the real world.
This session will explore the fundamental questions:
How do we consider risk in our personal and business decisions?

How do we use technology and can we do more with it?

Do we have controls that we don't even think about?
Ultimately, it all comes down to how we can run our business better. We do hope you can join us.
When: Thursday, 26th October at 4:00 pm BST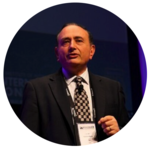 'Let's get real!' Rather than talk about risk management or internal control from a theoretical perspective, discussing the relative merits of frameworks and standards, Norman likes to relate everything to how people actually conduct their personal and professional lives.
Organisations have been thinking about what might happen (in terms of risk) and whether to do something about it for centuries - far longer than people have been talking about risk management, internal controls and GRC.
Fill the form out to the right to reister for this webinar.
Please enter your details below